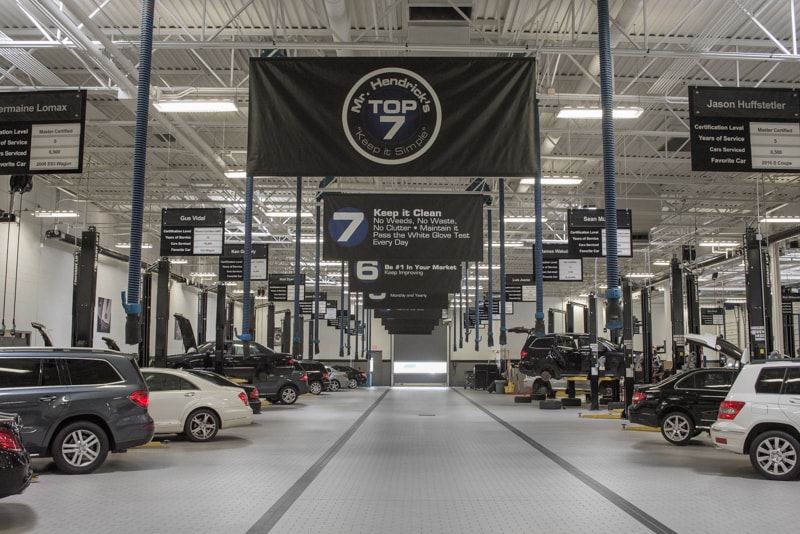 Mercedes-Benz Service and Repair in Charlotte at Hendrick Motors of Charlotte
Why Choose Mercedes-Benz Service at Hendrick Motors of Charlotte?
As a driver in the Charlotte, Matthews, Pineville, and Monroe area, you count on your Mercedes-Benz every day. Your Mercedes-Benz gets you to work, social events, and your children's soccer game on time. Some of the most precious cargo, like friends and family, ride with you daily, so regular Mercedes-Benz service and maintenance are critical. When your Mercedes is due for service or repair in Charlotte, choose Mercedes-Benz service professionals who know the inner workings of a Mercedes-Benz SUV or car like the back on their hand. Hendrick Motors of Charlotte's service professionals are highly trained in all things Mercedes-Benz, so schedule a service appointment with us today.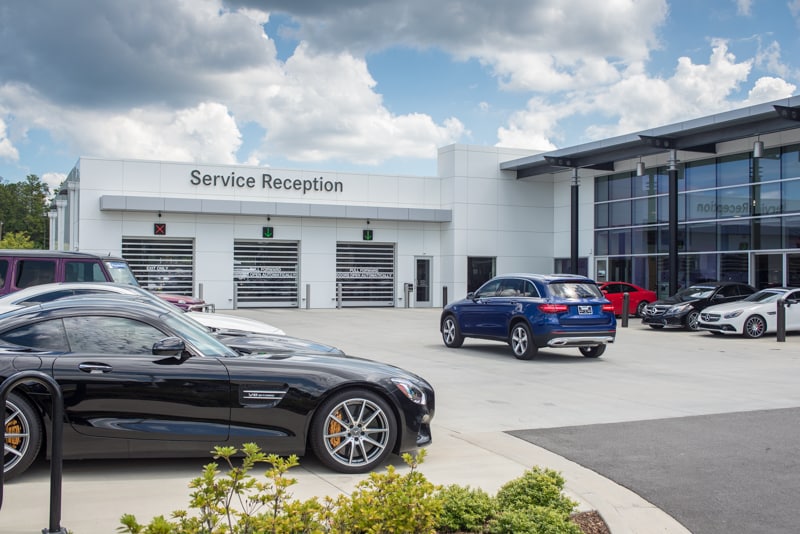 Hendrick Automotive was born from the passions of a car enthusiast who was re-building old classic cars from the age of 14, so you can bet that the team he worked so hard to build over the years shares a similar love of mechanical performance and engineering. As a proud member of this team, Hendrick Motors of Charlotte is committed to staffing experienced, highly-trained, and engaged technicians in our Mercedes-Benz service center, both to pay appropriate homage to Mr. Hendrick and to offer exceptional automotive repairs and maintenance to the drivers in our area in need of transmission repair, vehicle inspections, and diagnostics of mystery noises. Call to schedule a Mercedes-Benz service appointment, so we can keep you safer and more confident on the road. 
Hours
Monday

7:30AM - 6:00PM

Tuesday

7:30AM - 6:00PM

Wednesday

7:30AM - 6:00PM

Thursday

7:30AM - 6:00PM

Friday

7:30AM - 6:00PM

Saturday

7:30AM - 3:00PM

Sunday

Closed
What else sets our Mercedes-Benz Service Center apart from our local competition in the Charlotte area?
Unlike big-box chain service centers, we're more interested in fixing and customizing cars for our clients than we are in just the bottom line. That's why we offer frequent service specials and everyday competitive pricing on all basic and routine services. It's also why we'll only ever give you straightforward and honest information about your vehicle. Whatever the issue may be, we would like to help. Whether your Mercedes-Benz needs a routine oil change or new Mercedes tires, our team of service experts are here to be of assistance. Schedule service online, or give us a call to set up a time.
Mercedes-Benz Service
Hendrick Motors of Charlotte factory certified Service Center is the best place to bring your Mercedes-Benz for regular service. Whether you need oil levels checked, brake maintenance, new tires, or other regular service, our Mercedes-Benz factory certified technicians use the latest tools and diagnostic technology to thoroughly inspect your vehicle to make sure that any issues are taken care of properly. The knowledgeable Hendrick Motors of Charlotte Service Staff will keep you informed of the status of your vehicle and review the regular maintenance requirements with you. We're also here to explain Mercedes-Benz Service A and Mercedes-Benz Service B with you. By staying involved with you vehicle's maintenance, you'll feel increased confidence as you cruise down the highway. 
Emissions Testing
Tires and Tire Rotation

Mercedes-Benz Repair
Hendrick Motors of Charlotte's Service Center stands ready to repair your Mercedes-Benz. Our factory certified technicians will diagnose your problem quickly and provide factory certified parts if needed. You can wait in our Customer Lounge and use our free Wi-Fi access, or we can provide a shuttle service for you. Our goal is to get your Mercedes-Benz back on the road quickly with the highest quality factory certified parts and service. Our Service Staff will keep you updated and professionally explain any repairs required to keep your car safe and running within Mercedes-Benz specifications.
Air Conditioning Recharge
Four Wheel Alignment
Suspension Repair
Headlight bulb, Interior Light Bulb, Turn Signal Light bulb replacement
Air Filter, Fuel Filter Replacement
Fuel System Cleaning
Timing Belt Replacement or Timing Chain adjustment
Mercedes-Benz Warranty Repairs
Multi-point Inspection
Warning Light Diagnosis
Mercedes-Benz Quality, Quickly
Mercedes-Benz owners demand the highest level of service, and that means not only repairing their vehicles with Genuine Mercedes-Benz Parts, but also repairing them as quickly as possible. Our team is committed to getting you the right part for your Mercedes-Benz customers' vehicles quickly and reliably. We are ready to deliver the Genuine Mercedes-Benz Parts you need to help keep you satisfied. Using genuine Mercedes-Benz tires, brakes, and transmission fluid will also aid you in maintaining the value your car, SUV, wagon, or coupe. Contact our team if you have questions regarding the materials we use. 
Never Compromise. Use Genuine Mercedes-Benz Parts.
Your privacy is important to us.
Hendrick Motors of Charlotte takes your privacy seriously and does not rent or sell your personal information to third parties without your consent. Read our privacy policy.
Frequently Asked Mercedes-Benz Service Questions
How often should you service a Mercedes-Benz?
You should service your Mercedes-Benz car or SUV based on the recommended service intervals, Service A and Service B. These maintenance intervals are intended to keep your luxury vehicle in the best shape possible with tailored technology and expert technicians.
How do you know if your Mercedes-Benz brake pads are worn out?
If you hear a sudden squealing or screeching noises or a deeper grinding or growling sound, immediately schedule your Mercedes-Benz service appointment. Our Service A and Service B maintenance intervals should help prevent this sort of wear and tear, so be sure to schedule regular service.
How do I know if my Mercedes-Benz transmission fluid is low?
Again, regular Mercedes-Benz service should prevent this from happening, but your Mercedes car or SUV might begin making unusual noises. You might have trouble shifting gears, the vehicle might overheat, or your transmission can slip. If you suspect that your Mercedes-Benz transmission fluid is low, contact Hendrick Motors of Charlotte today.