Confused about Your Mercedes-Benz Service Menu and Schedule? Let Us Help.
You know that scheduling routine maintenance for your Mercedes-Benz C-Class, E-Class, or GLA can significantly extend the length and fullness of its life--but if you feel like you're getting lost in when to schedule Mercedes-Benz Service A* or Mercedes-Benz Service B*, when to rotate the tires, when to get fluids flushed and replaced, and when to get your brakes checked, we're here to put your mind at ease.
Mercedes-Benz Service A*
After your new vehicle's 2,000-mile initial check-in, you'll fall into the rhythm of Mercedes-Benz's intuitive and easy-to-read service menu. Mercedes-Benz Service A* occurs every 10,000 miles or every 1 year--whichever comes first--and follows the typical car maintenance visit, with some small tweaks to finely-tune your service visit to cater to luxury vehicle needs. Here's what to expect at your Mercedes-Benz Service A visit:
Oil change with synthetic, high-quality engine oil
Replace oil filter
All fluid level checked and corrections made dependent on factory-recommended service intervals for your vehicle's year and model
Tire check and inflation when necessary
Brake inspection
Maintenance counter reset
Mercedes-Benz Service B*
Mercedes-Benz Service B* occurs every 20,000 miles or every 2 years, whichever comes first--what this means, essentially, is that you'll be trading off between "A" and "B" services every year or every 10K miles--again, whichever comes first. Mercedes-Benz "B" service builds upon Service A*, performing all of the same maintenance, but adding:
Cabin dust and combination filter replacement
Brake fluid change
Maintenance counter reset
Mercedes-Benz Tire Center
While general recommendation says to purchase new tires roughly every 30K - 50K miles, this is no perfect science--tire wear and tear depends on a lot more than simple mileage. And if the tread depth on your Mercedes-Benz tires is wearing a little too thin, or if you're noticing reduced traction, reduced fuel economy, or just a change in road performance, it's time to stop in for a service appointment. With brands in stock like Michelin, Goodyear, Pirelli, Bridgestone, and Dunlop, we can meet your needs with ease.
Schedule your appointment online to secure an appointment for tire service like:
Tire rotation
Seasonal tire changeover
Flat tire repair
Tire inflation and pressure check
Wheel alignment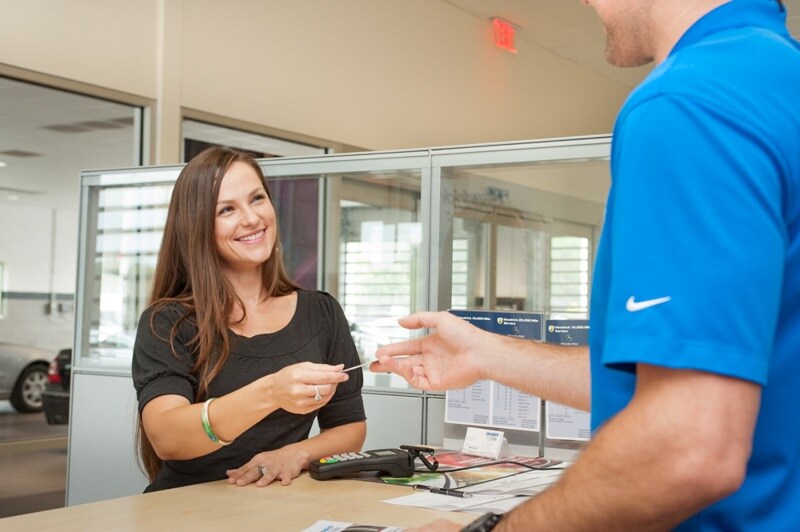 In an effort to further simplify car ownership for Mercedes-Benz drivers in Indian Trail, Matthews, Monroe, and Harrisburg, the automaker created a new, intuitive service schedule menu for model-years 2009 and later: Service A* and Service B*.
Mercedes-Benz Service A is recommended every 12 months or every 10,000 miles--though exact time is determined by the vehicle's Flexible Service System--and covers things like synthetic motor oil replacement, oil filter replacement, fluid level checks, tire pressure check and correction if necessary, brake inspection, and maintenance counter adjustment. Mercedes-Benz Service B is recommended every 2 years or every 20,000 miles--again, exact time is determined by the vehicle's Flexible Service System--and covers all of the above with cabin filter replacement, brake fluid exchange, and any other necessary fixes.
Some models--like Sprinter vans, electric and hybrid luxury cars, and AMG high-performance cars--may require specialized service schedules for their unique engineering needs. You can find this information in your Operator's Manual, or by asking your local Charlotte Mercedes-Benz service center. Regular Mercedes-Benz service and maintenance are critical for maintaining your car's value.  
For all other services not mentioned under the basic required maintenance categories, Hendrick Motors of Charlotte has you covered. Schedule online for brake fluid service, cooling system service, Mercedes-Benz transmission fluid and filter service, tire rotation or wheel alignments, and more all in one place. If you have any questions, feel free to contact us. 
* Price advertised for Service A/Service B includes all factory-required components. Please refer to your maintenance booklet for the complete list of factory-required services and details on the specific intervals for your vehicle's year and model. Service A/Service B is for vehicles MY09 and newer.