The all-new 2021 Mercedes-Benz GLA is the last SUV in the Mercedes SUV hierarchy and fills a need for a compact, stylish SUV for shoppers looking to buy or lease. The 2021 GLA is equipped with a turbocharged four-cylinder engine with front-wheel drive. All-wheel drive is optional as well if a buyer would prefer a bit of extra stability. With improved interior styling and materials, drivers can cruise with confidence and be surrounded by the latest technology features. Overall, the 2021 GLA distinguishes itself from the 2020 model with a premium model look and function on both the interior and exterior features.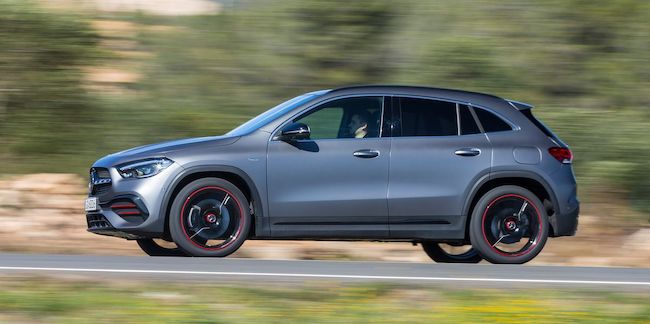 Which GLA Should I Buy?
The all-new GLA 250 is priced at an MSRP of $37,280 and the GLA 250 4MATIC is priced at an MSRP of $39,280. While you may not need the all-wheel-drive option for off-roading, the extra stability and power could be useful in the snow and other unique situations. Consider asking your salesperson at our Charlotte dealership which option is better suited for your needs!
Performance Distinctions for the All-New 2021 GLA
The 2021 GLA is equipped with the same turbocharged 2.0-liter four-cylinder engine that drives the front or all four wheels. This time around, the engine makes 221 horsepower—up from 208 in the current model—and is paired up with an eight-speed automatic rather than the current seven-speed.
With regard to fuel economy, the 2021 GLA 250 gets 25 miles per gallon in the city and 34 miles per gallon on the highway. The all-wheel-drive GLA 250 4MATIC's fuel economy gets 24 mpg in the city and 33 mpg on the highway - only 1 mile less than the front-wheel drive. In time, a hybrid model will be added to the lineup according to Mercedes-Benz.
Comfort, Interior, and Trunk Space
In the 2021 GLA redesign, the rear-seat passengers gained about five more inches of legroom in addition to extra space for their shoulders and elbows. The interior features are also more luxurious and impressive. Additionally, the 2021 SUV has additional cargo space in comparison to the 2020 model year because the rear seats fold flat. Road trips will be much easier with the additional trunk space!
What are some key 2021 GLA safety features?
Standard automated emergency braking with pedestrian detection

Available lane-departure warning with lane-keeping assist

Available adaptive cruise control with semi-autonomous driving mode
Overall, the new 2021 GLA has seen many improvements and serves as a much-needed upgrade to the SUV lineup. Shop our online SUV inventory today! Hendrick Motors of Charlotte looks forward to your visit.