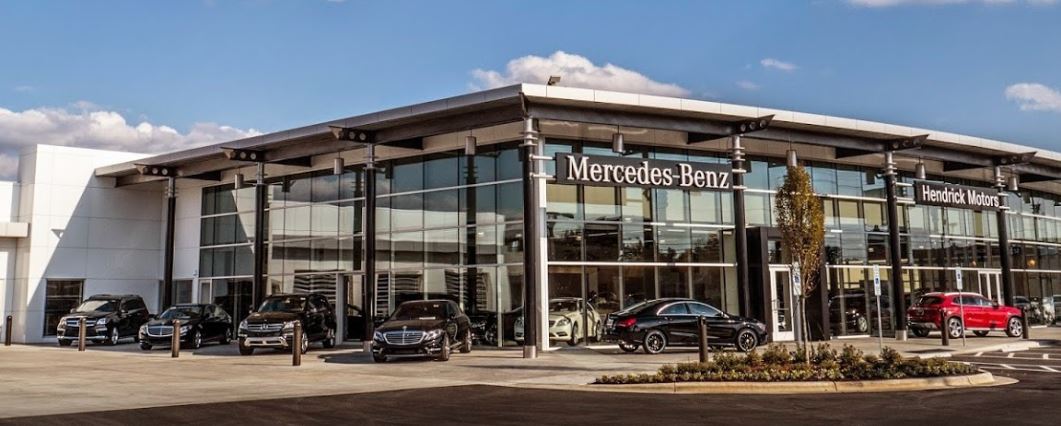 Why Choose Hendrick Motors of Charlotte for Your Mercedes-Benz Experience?
Charlotte, North Carolina is an up-and-coming hub of luxury car paradise, with premium car dealerships popping up all across Indian Trail, Matthews, Monroe, and Harrisburg. But if you truly want the best in service, the best in selection, and the best in satisfaction, Hendrick Motors of Charlotte--a premier Mercedes-Benz dealership--should be your first choice.
We are committed to service. Hendrick Motors of Charlotte is a Mercedes-Benz dealer where genuine care and service is our mission and our top priority; we strive to build relationships with every one of our visitors, and create guests for life.
Here's why Hendrick Motors of Charlotte is a head above the rest:
An Exceptional Selection of Performance and Luxury Vehicles
Our client advisors are trained to listen intently to your needs and select the best vehicle based on the things that matter to you. We have a vast, extended network of new and pre-owned vehicles for you to choose from. Whether you are purchasing new or used, our specialists are trained to know our products well and demonstrate the features and benefits that you want to know about.
With hundreds of vehicles in stock on the lot, it's easy to find the perfect sedan, coupe, or SUV that you're looking for, without needing to wait: explore brand-new models, AMG performance cars, Maybach ultra-luxury sedans, and Mercedes-Benz Sprinter vans, all in one convenient place. Thanks to new car specials and lease deals at Hendrick Motors of Charlotte, we're helping drivers discover their dream cars faster, and for less.
Should you be limited to a budget, you'll be happy to know that thousands of drivers per year visit our Charlotte dealership to shop our extensive used car inventory, and take advantage of pre-owned vehicle specials and affordable financing opportunities. We have something for everyone:
New Mercedes-Benz cars and SUVs
Used vehicles from popular brands
Certified Pre-Owned Mercedes-Benz models
Mercedes-Benz lease vehicles
Unparalleled Convenience, Customer Care, and Honesty
All things that you may not expect at your typical dealership visit, but that come standard at Hendrick Motors of Charlotte. We strive to provide the easiest, most convenient, and most honest approach to helping people buy their dream cars.
We have learned that most luxury consumers do not enjoy a lengthy purchase process, stuffed with unnecessary negotiation. That's why we partner with various consumer research sites--like Kelley Blue Book, Edmunds.com, True Car, and NADA--to ensure that our guests get absolutely the fairest pricing in the market based on objective research, eliminating excessive negotiation.
Should you choose to trade your current car to reduce monthly payments or downpayment on your new or pre-owned luxury car, you'll always find a fair deal here. 
We always love to see you at our state of the art facility. However, we realize our guest lead busy lives.  If you prefer to purchase your new or pre-owned vehicle without ever stepping foot in our showroom we are happy to accommodate that request. Please contact one of our client advisors to see how to purchase without coming to our location.
Premium Services for Luxury Cars
From providing drop-in inspections to helping you stay to the strict routine dictated by your vehicle's Service Menu the impressive auto service team at Hendrick Motors of Charlotte boasts a stunning combined 300 years of technical experience. That's three total centuries' worth of diagnosing issues, maintaining cars, rotating tires, changing oil, and loving Mercedes-Benz cars--so you can be sure that if you bring it in, we know how to fix it. And, should your repair take a little longer than usual to fix, our fleet of over 70 loaner vehicles can assist in keeping your life on track.
Our services extend from maintenance and basic repairs to custom work, Mercedes-Benz parts sales, accessories installation, customer care, and professional assistance in all things automotive. Choose Hendrick Motors of Charlotte for:
Mercedes-Benz maintenance and repairs
General auto service for all makes and models
Genuine Mercedes-Benz parts and accessories
Friendly Faces, a Supportive Staff, and a Professional Environment
As much pride as we have in our selection and services, "customer service" doesn't mean much without the customers--that's why we're extremely proud to boast stellar dealership reviews from drivers just like you. First-time buyers, adventurers, businessmen, families, parents, students--we love to see the variety of buyers that walk through our doors.
Here's what you can expect from us when you visit:
A warm and caring greeting
Prompt attention by a member of our team whose mission is to genuinely serve your needs
Open, honest discussions about vehicles, pricing, and more
A great experience
Great deals and fair prices
If you're ever unsatisfied for any reason, please let us know so that we can improve in the future.
Our commitment to you extends well after the purchase. We commit to serving any needs that you may have after your purchase with us. This extends to the Charlotte community as well. We are a proud partner with Together We Feed and other school partnerships in our community.
So what's the driving factor behind the reasons why drivers in the area choose to buy Hendrick Motors of Charlotte? Just get to know us, and you'll be able to see it all for yourself.