2020 Mercedes-Benz GLE Models for Sale in Charlotte
The impressive 2020 Mercedes-Benz GLE redefines the expectations of a modern-day SUV for our Charlotte customers. The stylish cabin and advancement of an industry-leader, the 2020 Mercedes-Benz GLE has been completely remastered by our engineers to surpass the standards of our North Carolina customers. This mid-size SUV stands out when compared to competitors for it's sleek lines and stellar performance. Your passengers will ride comfortably in the 2020 GLE and have ample room for storage in the trunk. Contact Hendrick Motors of Charlotte to schedule a test drive with the luxury Mercedes-Benz GLE today. 
Mercedes-Benz carefully crafted the GLE's performance, technology, and design to exceed expectations. The goal is to give your family ample space for storage and passengers while still being a mid-size SUV, and allow you to drive with power and control on our Charlotte highways. There are various trim levels offered to accommodate various lifestyles and must-have features. The GLE's towing capacity is as high as 7,700 pounds. The 2020 GLE goes with you wherever life takes you, so consult one of our team members for a test drive.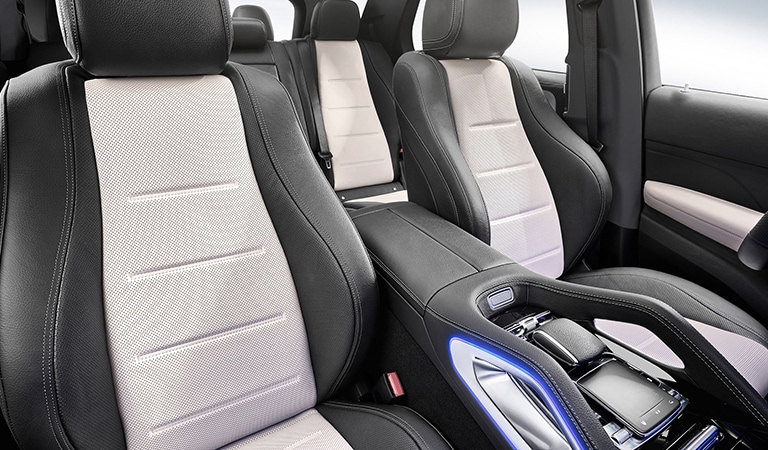 Inside the 2020 GLE you'll find amenities helping to refine all of your North Carolina adventures. Available interior features include:
4-Zone Climate Control
12.3" Digital Instrument Cluster
Air Balance cabin fragrance system
Enhanced navigation w/ augmented reality
And more
2020 GLE SUV's crave off-roading to showcase their exceptional ability to negotiate rugged terrain. Available performance features include:
AIRMATIC air suspension
E-ACTIVE BODY CONTROL
Head-Up Display
9G-TRONIC 9-speed automatic transmission
And more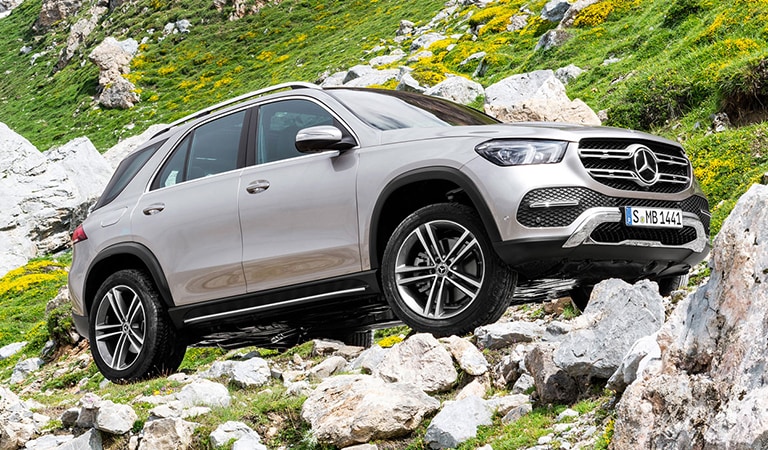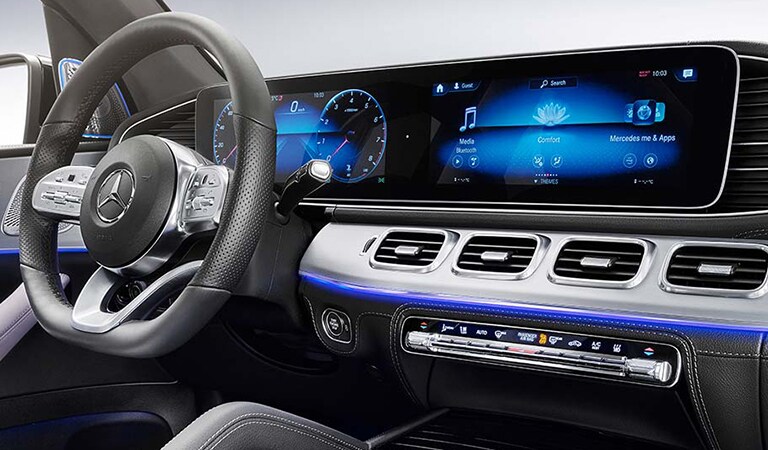 The state-of-the-art 2020 Mercedes-Benz GLE sets automotive innovation into motion like never before. Available technology features include:
3D Surround Sound System
Intelligent Voice Control
Inductive Wireless Charging
Mercedes-Benz User Experience system (MBUX)
And more



Mercedes-Benz GLE FAQ
Does the Mercedes-Benz GLE have a 3rd Row?
Yes! The Mercedes-Benz GLE provides exceptional comfort for all of your passengers, young and old. The first and second rows offer ample space for your passengers to be beyond impressed by the comfort, as well as third row accommodations to fit an extra few passengers in a pinch. Stop by to fall in love with the spacious, functional interior that the Mercedes-Benz GLE offers our Charlotte-area customers today!
Is the Mercedes-Benz GLE a 7-Seater?
Thanks to the new third row seating options, the 2020 Mercedes-Benz GLE can seat 7! When you choose this third-row Mercedes-Benz SUV option, your passengers will appreciate the power adjustment capabilities of the second row to heighten their comfort level and the power folding seating for easy access to the third row. The Mercedes-Benz GLE offers the space you need while keeping it practical and convenient for you and your passengers.
What are the Mercedes-Benz GLE Models?
The Mercedes-Benz GLE offers 4 models, including the GLE 350 SUV, GLE 350 4MATIC SUV, GLE 450 4MATIC SUV, and GLE 580 4MATIC SUV, as well as 3 Mercedes-AMG GLE options: AMG GLE 43 SUV, AMG GLE 63 SUV, AMG GLE 63 S SUV. Come by Hendrick Motors of Charlotte today to see the features, luxury, and superior styling that the Mercedes-Benz GLE has to offer you in every model!
What is the Difference between the Mercedes-Benz GLE and GLC?
While both the Mercedes-Benz GLE and the Mercedes-Benz GLC are both fantastic Mercedes-Benz SUV options, the GLE is the perfect SUV for the family who needs a larger option. The Mercedes-Benz GLE offers seating capacities for up to 7, while the Mercedes-Benz GLC is currently only a 5-seater option. The Mercedes-Benz GLE also impressive cargo space of up to 72.6 cubic feet while the Mercedes-Benz GLC only offers up to 56.5 cubic feet of cargo space. Come by Hendrick Motors of Charlotte to let your family test out the GLE today!
Can I control my Mercedes-Benz GLE with voice commands?
The Mercedes-Benz GLE uses Artificial Intelligence to be able to run your words into action. Just say, "Hey Mercedes, it's hot in here" or "I need groceries," and MBUX can cool the cabin or set the standard MB Navigation. It can even learn your habits, and new phrases. This SUV is smart and ready to help you get through the day.